Wonderful hair treatments with evening primrose oil
Evening primrose oil is a great remedy for damaged hair. It does not only protect but also regenerates strands and strengthens in a way that the effects of the treatment are visible instantly. Of course, for full regeneration you must devote more time and be consistent, but this effort pays back well. Thanks to hair oiling, strands gain strength and beautiful look, become healthy and stop falling out.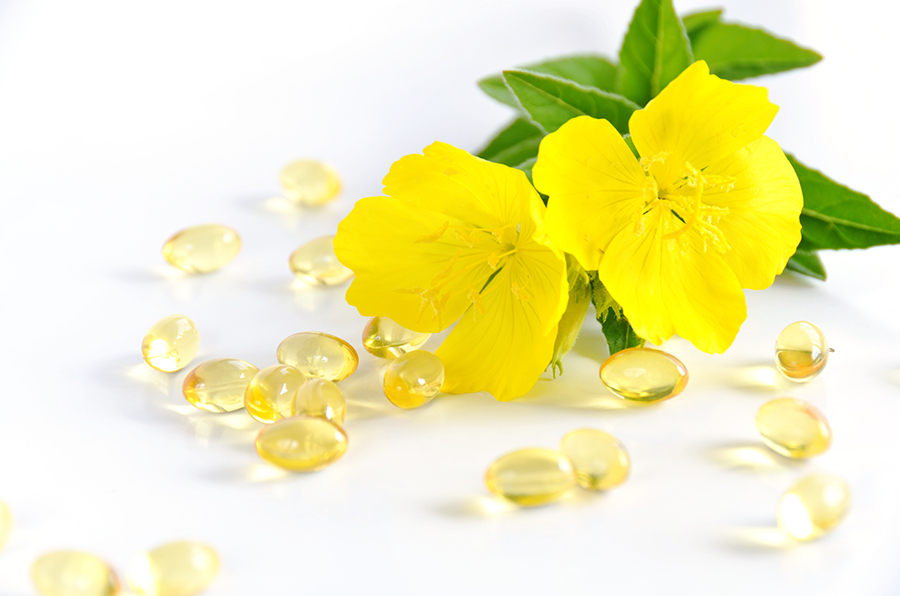 Hair oiling must be done at least once a week. In the meantime, it is worth providing your wisps with additional care with the use of evening primrose oil. It dose not take much time but the effects are amazing.
If you want to have beautiful, full of shine and healthy hair – you must try out the following propositions of treatment.
HERBAL HAIR MASK WITH EVENING PRIMROSE OIL
PREPARE:
3 tablespoons of dry herbs (horsetail, nettle, brahmi)
hot water
2 tablespoons of evening primrose oil
Blend well the chosen herbs (you can use those mentioned above or other that strengthen hair, such as: birch leaves, sweet flag, black seed – Nigella sativa). You can buy brahmi in a form of a powder. Pour hot water over you herbal blend. Do not add too much water, just enough to create a mash. The finer the herbs we use, the better. If you want to make the blend thicker you might as well add some linseed. Brew it for about 20 minutes and leave aside to cool down. Then, add two tablespoons of evening primrose oil and mix well (the mask should have the consistency resembling sour cream). Apply to your hair evenly. After about 30 minutes rinse it and wash with a mild shampoo.
HAIR MIST WITH ALOE VERA JUICE AND EVENING PRIMROSE OIL
PREPARE:
3-4 tablespoons of aloe vera juice
half a glass of boiled water
2 tablespoons of evening primrose oil
an empty bottle with an atomiser
Blend well all the ingredients and pour into the bottle (you might as well add a tablespoon of honey or teaspoon of lemon juice). After pouring the mixture into the bottle with the atomiser, use it as a conditioner. Apply it to dry or damp hair, during the day whenever you feel the need, before washing hair or right after. The mist will moisturise your strands and protect them against harmful sun radiation and other damages. Additionally, it tames unruly wisps and prevents toxins from penetrating to the interior. Moreover, it seals scales and provides beautiful shine.
Good luck!